Lightning Hazards for Residential Properties
6/17/2022 (Permalink)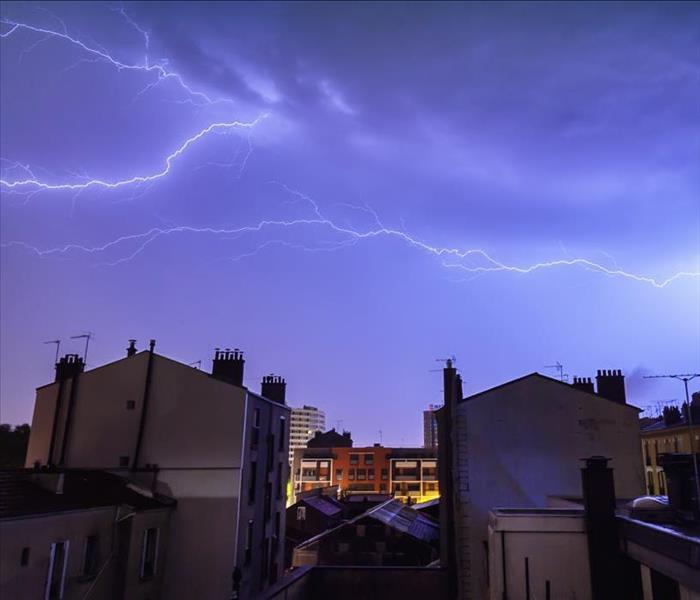 Lightning occurs most frequently during the summer. This means that now is the time to get familiar with indoor lightning safety.
The interiors of residential properties are the location of almost one-third of injuries sustained from lightning strikes, according to The Centers for Disease Control. We've all heard the basics of outdoor lightning safety: get out of the pool at the first rumble of thunder, seek shelter immediately, etc. Once you find shelter, however, indoor lightning safety is just as important. Discussing lightning safety this time of year is especially relevant, as lightning is dangerous any time of the year, but lightning occurs most frequently during the summer. This means that now is the time to get familiar with indoor lightning safety in order to protect your home, as well as those living in it.
In the event that lightning strikes a residential structure, it can risk a serious fire hazard. As explained by Weather.gov, "each spark of lightning can reach over five miles in length, soar to temperatures of approximately 50,000 degrees Fahrenheit, and contain 100 million electrical volts." With this information, it is clear that lightning is powerful enough to ignite dangerous fires in residential structures and the electrical currents sent through homes, resulting from lightning, can risk the safety of those living in the home. Keep reading for additional lightning safety tips that can be practiced in your home.
Keep Your Distance from Electrical Equipment
Lightning, as we've learned, can contain 100 million electrical volts, making it imperative that you refrain from using electrical equipment during a thunderstorm, as doing so can facilitate electrical shock or fire. Lightning also travels through electrical currents, like those that are used by radios and televisions, so it is crucial to refrain from using electrical devices that utilize this equipment, like corded landlines. Consider switching to a battery-powered radio or your smartphone in order to stay up to date on weather news during a storm. You may also consider purchasing surge protectors for your home, which work to protect your electrical appliances during storms.
Avoid Plumbing and Water
Think back to every time you've been called out of the ocean or the pool during a thunderstorm. Just as it is important to get out of the water when outdoors, avoiding water and plumbing indoors during a storm is recommended. It is important to remember that showering, taking a bath, and even washing the dishes during a thunderstorm can be dangerous, as lightning can travel through a property's plumbing. Therefore, it is best to refrain from activities that utilize water until the storm passes.
Shelter in the Safest Area Possible
When seeking shelter, be sure to take cover in the safest area of your home. This means avoiding screened-in porches and rooms with windows or doors. Instead, seek shelter in an interior room of the home. It is recommended to keep your distance from concrete floors and walls because lightning can travel through concrete walls and flooring.
Storm Damage Takes You By Surprise? Call SERVPRO
The preventative measures outlined in this blog can help protect your home and those living in it. All the while, storms are powerful, unpredictable, and often dangerous. In the event that your home experiences unexpected storm damage, SERVPRO Team Wall is here to help. Learn more about our various Storm Damage Restoration services and the SERVPRO Disaster Recovery Team by visiting our website. You can also speak with one of our knowledgeable team members by giving us a call at (717) 510-6779. After any disaster, whether it be large or small, we are here to help you make it "Like it never even happened" for your home.