What to Know About Lightning Damage This Summer
6/8/2021 (Permalink)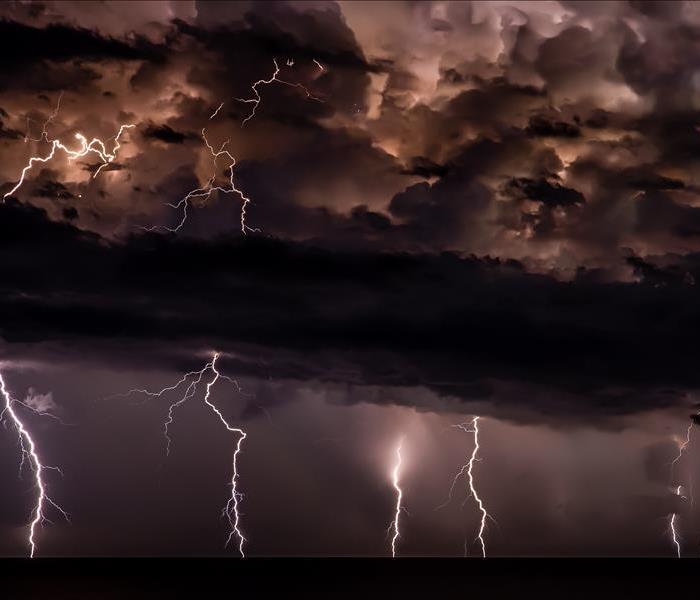 Summer storms are forceful aspects of nature that pose many risks to homes and businesses alike. Over the last few years, whenever summer rolls around, we post a blog or two about summer storm safety on various topics such as flash flooding damage and hurricane preparation in order to help homes and businesses alike to protect themselves from potential dangers presented by summer storms. When we discuss summer storm damage, we often think about water damage or physical damage to buildings due to debris and fallen trees, but lightning is another important factor that should be considered. Lightning can directly strike homes and commercial buildings that lack lightning protection, which can pose significant risks including fire damage and electrical power surges. Continue reading to learn more about the risks that lightning poses, as well as what you should do in the event that your home or business' building endures lightning damage.
Types of Lightning Damage
When lightning hits a building, there is a chance that a fire can ignite. Usually, if a fire ignites, it will be in the attic or on the top floor of the building. Lightning adheres to electrical wires and circuits, which can then facilitate the spread of the fire throughout a home or commercial business building. If lightning makes direct contact with your home or building, its structure can be placed in jeopardy, as lightning can rip through roofs and attics, scorching its surroundings. Additionally, personal belongings can be damaged as a result of a lightning strike because lightning can send an electric surge throughout the structure that it hits. Electronics, including televisions, appliances, and computers, can undergo serious damage or destruction in this circumstance.
I Think That Lightning Struck My Building- What Should I Do?
If you think that there is a possibility that your home or business building has been struck by lightning, you may be wondering, "what should be my first step?" When lightning strikes a building, the resulting sound usually significantly overpowers that of thunder or distant lightning, making it easy to tell that a direct strike has occurred. Immediately check your home or business for fire and as soon as it is safe to do so, survey your roof for damage. Be sure to also check breakers and electrical outlets, as well as switches, in order to identify any electrical damage. Lastly, keep an eye out for leaks, which may indicate damage to piping.
SERVPRO Is Here to Help
In the event that you identify damage to your home or commercial business after enduring a direct lightning strike, call SERVPRO of Harrisburg West immediately at (717) 510-6779 (410) 229-0012 for professional Storm Damage Cleanup and Restoration Services that you can trust to make it "Like it never even happened." We offer various storm damage restoration and remediation services that ensure our ability to cater to your home or business' individual needs. Visit our website to learn more about our Commercial Storm Damage Restoration Services. If lightning led to the ignition of a fire, our Fire Damage Restoration Services have your back. If your roof has been damaged, look no further than our many Building Services, which include Roofing Services. No matter the scope of the damage that your home or commercial business experiences this summer, know that SERVPRO of Harrisburg West is prepared to help in any way we can.