Our Guide to the Polar Vortex
3/24/2021 (Permalink)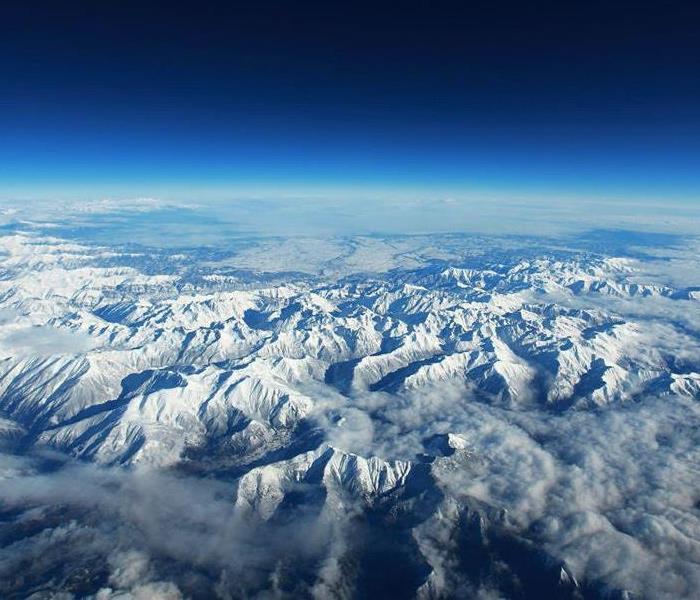 Every winter, the phrase "polar vortex" means suiting up in our warmest winter coats, hats, and gloves. The Polar Vortex refers to a zone of cold air that gravitates toward the Earth's two poles, according to the National Weather Service. We experience the Polar Vortex when that air takes a trip south during the winter, bringing us our own slice of Arctic air. It creates almost unbearable, cold conditions for us, risking such conditions as hypothermia, but it may come as a surprise to know that our homes and businesses can suffer just the same. Just as we need our heavy coats and cozy scarves, our homes and businesses need protecting from the cold.
Our homes and businesses can fall victim to freezing pipes and ice dams, which can both lead to serious water damage, during the polar vortex of the winter. The freezing, Arctic temperatures characteristic of the polar vortex can cause the water inside of pipes to freeze and expand, resulting in burst pipes. On the roof, when snow and ice accumulate, ridges of ice can form and block melting snow from leaving the roof. As a result, the water may leak down into the roof. Keep reading for our checklist of actions that you can take to protect your home or business from the potential dangers presented by the polar vortex.
Our Polar Vortex Survival Guide
For Ice Dams
Clean snow off of your roof as soon as possible. However, be sure that you wait until the snow has stopped or there is a break in the storm. Before a snowstorm, it is helpful to remove any lingering snow or ice from a previous storm from the roof.
Be sure that your attic or top floor is properly insulated before a storm. If your amount of insulation is lacking, it may be beneficial to add extra insulation.
For Freezing Pipes
Before a storm, be sure that all pipes are insulated and any cracks that they may have are sealed.
When temperatures drop, let your faucets drip in order to keep water flowing, which prevents the water from freezing.
Maintain consistent, warm temperatures inside of your home or business. Additionally, make certain that your insulation is sufficient throughout the home or building
Trust SERVPRO This Winter
It's impossible to predict exactly what will come our way this year, but regardless of what this year has in store, look no further than SERVPRO. If your home or business experiences water damage as a result of the polar vortex or harsh winter weather in general, our team of storm and water damage specialists can be trusted to provide water mitigation services that will get things back to normal in no time.