Soda-Blasting for Fire Damage
12/16/2020 (Permalink)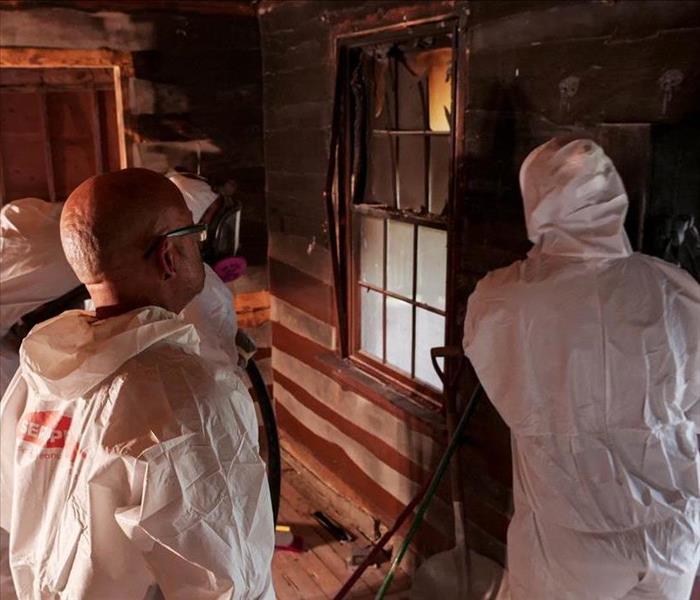 It is imperative for SERVPRO technicians to keep up with thescience and technology that pushes the restoration industry forward. Due to the fact that we are so focused on continuing education, and putting trust and education into our workforce SERVPRO is one of the leading water and fire mitigation companies. Soda-blasting, one of our most specific cleaning techniques, could be the service you were looking for.
What's Soda-Blasting Then?
Sodablasting is a procedure that uses sodiumbicarbonate as an abrasive medium todeep clean surfaces using special equipment, similar to a power washer. Used mainly on concrete walls and wood floors, soda-blastingimprovesthe visual quality and integrity of surfaceswithout significantly damaging or deteriorating their surfaces by ripping or "blasting off" tons of layers of the surface. In comparison to ice blasting, soda-blasting is intended to preserve this content intact. This is unprecedentedly useful for dealing with historic pieces, support beams and all kinds of plastic and wood material as there are less concerns about damaging structural integrity of the surface.

In 2020, we had many times to use this technique in Howard County Maryland, especially, to clear deeply the surfaces of a log cabin which had a big fire and which not only coated wood but also stained it from all the ash and soot. It was a very necessary technique to use due to the fact that stripping the interior walls would cause issues for the team later when treating the wood. We suggested that this is one of the easiest ways to clean surfaces of wood products that are weakened by fire or mold, as the surface is thoroughly cleaned and the structural integrity of wood is not badly damaged.

Why Choose Us for Your Deep Cleaning Needs
Often because we know exactly what we talk about. You want a person who investigates the problem and figure out what happened to avoid the problem from happening again. No one gets very far by doing the bare minimum. On the first day, our techniciansaretaught how to identifythe best way to solve an assortment ofproblems they may face in the field. We agree that there's never a one-size-fits-all solution and that every situation is special, so our crews need to make the right decision for YOU.
Call SERVPRO of Harrisburg West today at(717) 510-6779 if you believe that our commercial soda-blasting services are suitable to your homeor business. We know the value to get your company back into service as soon as possible after the catastrophic damage caused by fire, smoke, or water. Trust SERVPRO and its clean-up service experts for a clean you can rely on.